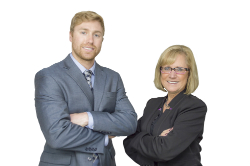 Our Mission is to act in the best interest of our clients and exceed expectations throughout every step of the real estate transaction. Our goal is to provide an exceptional experience and develop clients for life. We strive to represent the very best of the real estate community and achieve beyond that of our clients expectations. Hutchins Properties Agents will uphold their commitment to quality professional work, reliable service and positive results.
Hutchins Properties is a locally owned and operated FULL SERVICE Real Estate company. We have been serving the Southern Maryland area, including Calvert, Charles, St. Mary's, PG, and Anne Arundel Counties for over 25 years. Ryan Hutchins, Broker, is a licensed attorney in the state of Maryland and uses his experience in real estate and contract law to help clients throughout the entire process.

Ryan has been involved in real estate for over 10 years, beginning his career in College. Kathy Hutchins, his mother, has been involved in real estate for over 40 years. She began her career in Gettysburg and has been in Maryland for over 30 years. Kathy started Hutchins Properties 25 years ago after leaving Coldwell Banker with a tremendous following of clients.

Our company has been growing every year and we have gained several agents in the past few years. If you are considering a career in Real Estate let us know! We would be happy to discuss the industry and any questions you may have prior to getting licensed.

We strive to gain our clients' trust and confidence, partnering with them to achieve their highest goals and expectations. Give us a call for any of your real estate needs!